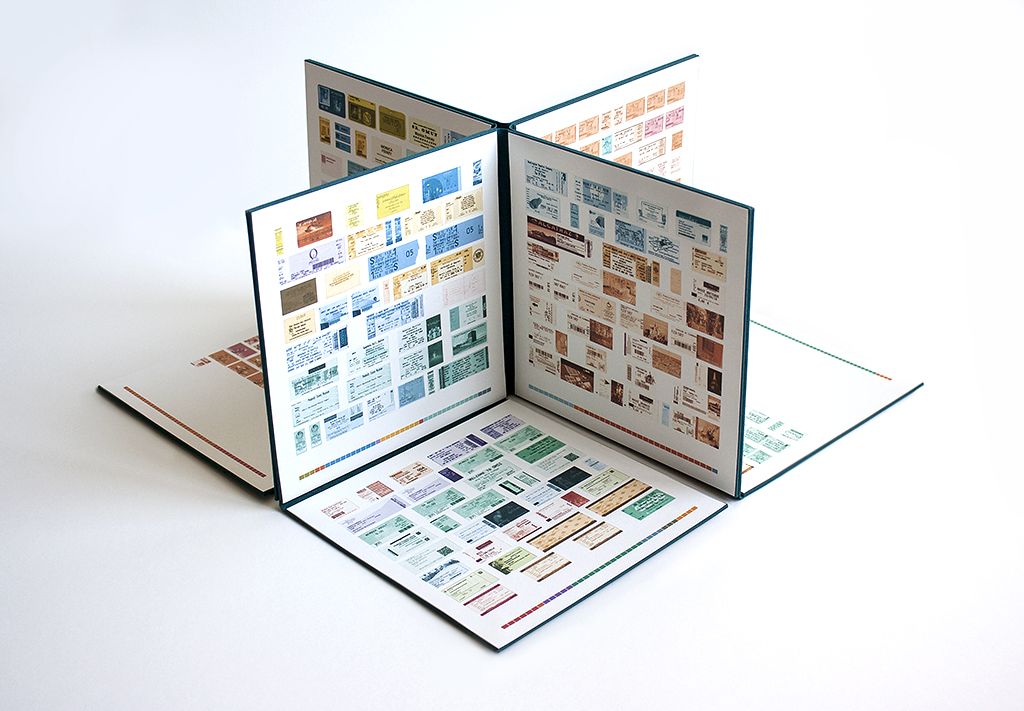 Memory Palace
This book, "Memory Palace", demonstrates my compulsion to remember and to be remembered by way of collecting. The pages are a storage place for a range tokens representing experiences that I have saved over the last twenty years. In this way it is a vessel, holding objects that I can retrieve at any time to awaken memories temporarily forgotten. Codified by color and arranged chronologically, each item signifies a particular time and place. This structure was chosen because of its resemblance to a series of rooms. A memory palace is a mnemonic device, which helps a person to catalog and retrieve information. The creation of "Memory Palace", has allowed me to transform this mnemonic device into physical reality.

Materials:
Digital prints on 90lb water color paper, Iris bookcloth over binder's board, foil stamped title

Dimensions:
8 x 8 x1.5 (closed)

Unique/ Single Copy
2015
Guild of Book Workers National Juried Exhibition, VESSEL, 2015-2016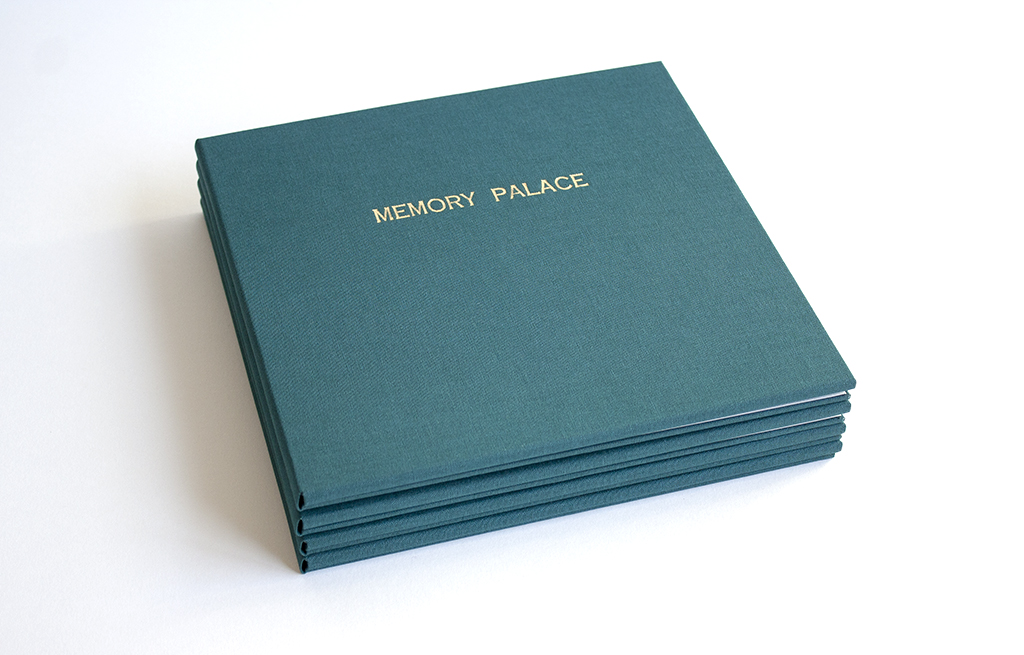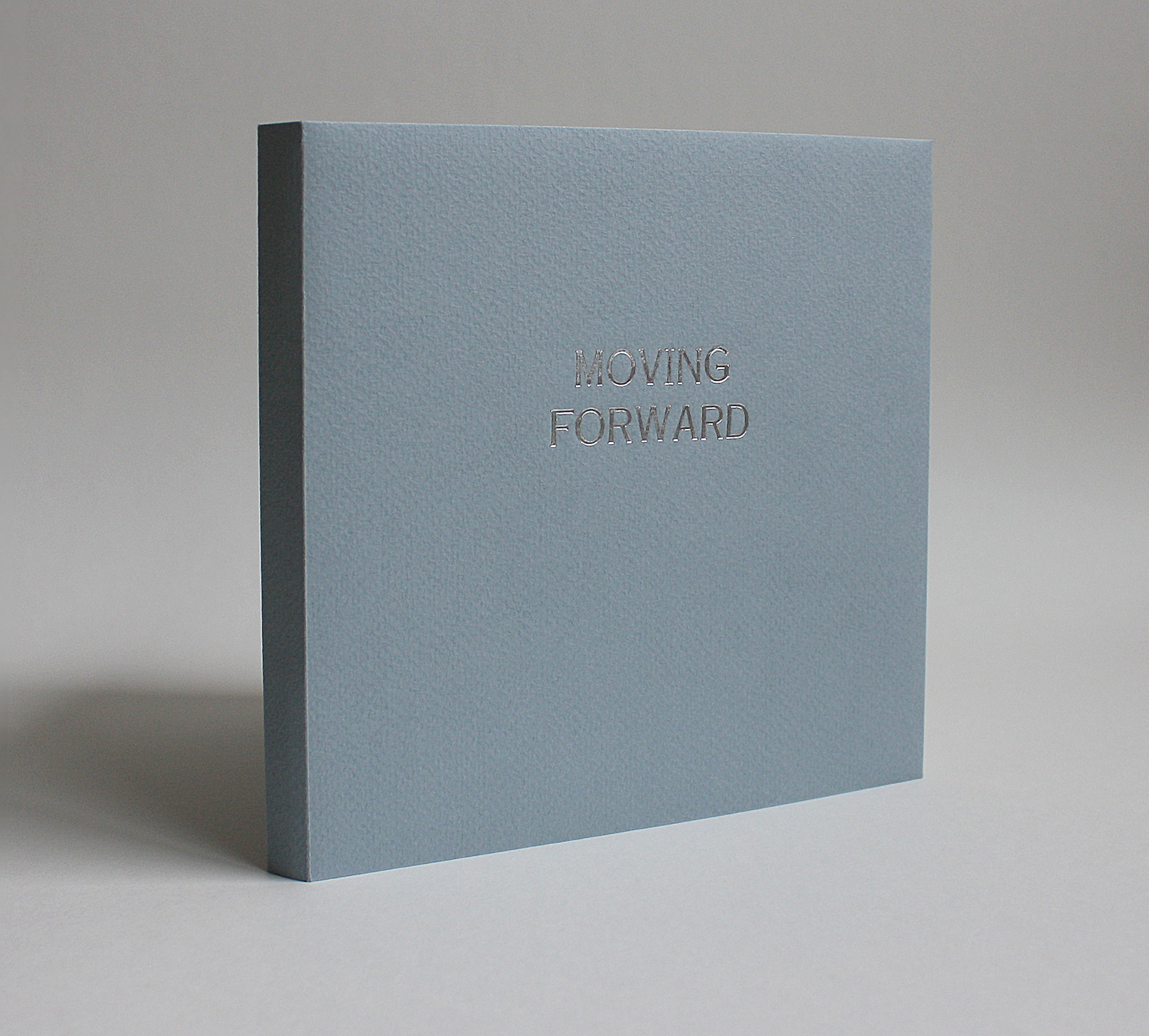 Moving Forward
Moving Forward was created for the 2015 Hello Hedi Exhibition at 23 Sandy Gallery in Portland, OR. I had the opportunity to watch an interview with Hedi Kyle, in which she spoke about her background and gave a tour of her studio. It was a delight to see the objects and structures that influence her, and I saw many of my own interests reflected in what she shared. Specifically, I found that Hedi is an inspiring collector. I have saved ephemera for years, and recently have been reflecting on what I have saved and have been making work around the theme of these tokens of my past. For this book, I focused on my collection of ground transportation tickets, acquired from 2002 to 2014. I chose Hedi's Crown Book structure because of the movement of the binding as it opens and its resemblance to spokes of a wheel. One of the first artist books I made was a Hedi Kyle Flag Book, which was full of bus ticket pages. It feels most fitting that the theme carries over in my book for this show.
Materials: Digital prints on 90lb watercolor paper, Yupo watercolor paper, Fabriano Tiziano paper
Dimensions: 6.125 x 6.25 x .5 inches
Edition of 5 and 1 artist's copy
2015
23 Sandy Gallery's juried exhibition, HELLO HEDI, June 5th - July 25th, 2016.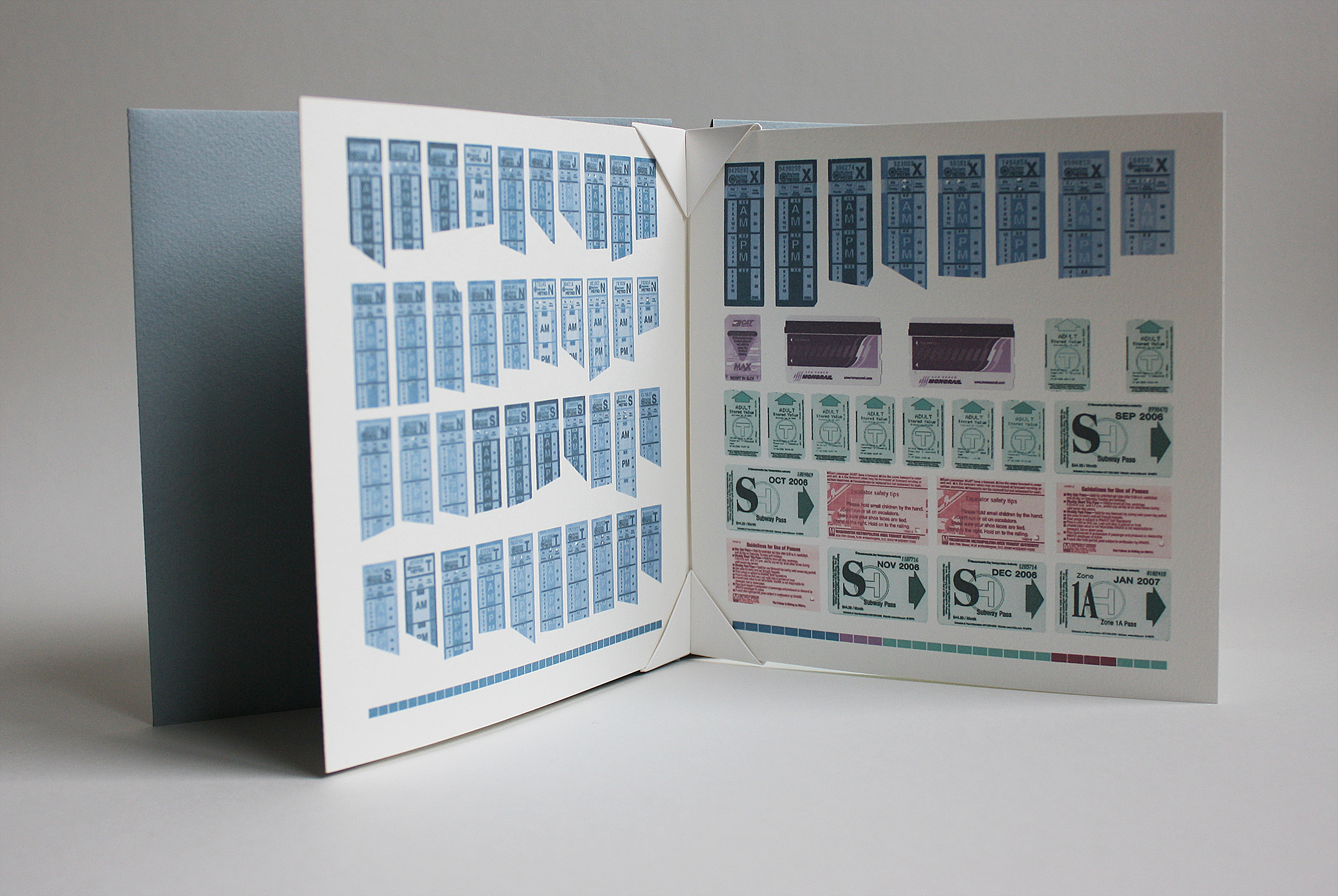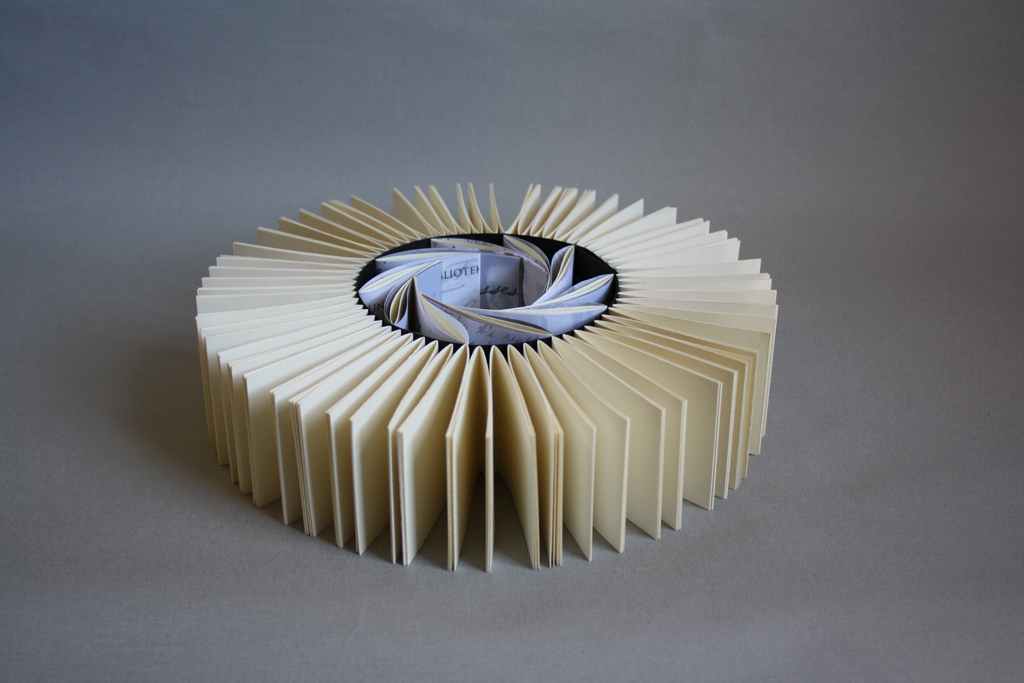 The Frontier Horizon
The horizon represents a new frontier, personally and globally. Imagine that you can walk the rim of this binding where all of the sections are gathered. Look outward at the endless possibilities extending toward your future. Look inward at the layered spokes of your past and contemplate how your memories, experiences, and the people that have made an impact on your life might inform your steps toward each new frontier. This book structure represents a personal reflection as I search beyond my own horizons and limits. I push toward new experiences while carrying the past with me.

Materials:
Cave Paper, Mohawk Superfine, vellum paper printed with mementos from the artist's past, linen thread, magnets
Dimensions: 10.75 x 10.75 x 2.5, Folds flat to 18 x 2.5 x 1.5
Unique/ Single Copy
2012
Guild of Book Workers National Juried Exhibition, HORIZON, 2012-2014